Be Well Equipped for the
Data Avalanche
Organizations find themselves locked in a fierce struggle against their own data. Legal teams are being enguled by an overwhelming avalanche of information and enterprise data volumes are doubling every 2 years. In this whitepaper, we provide 7 crucial readiness steps to conquer the data avalanche and emerge victorious in your legal use cases.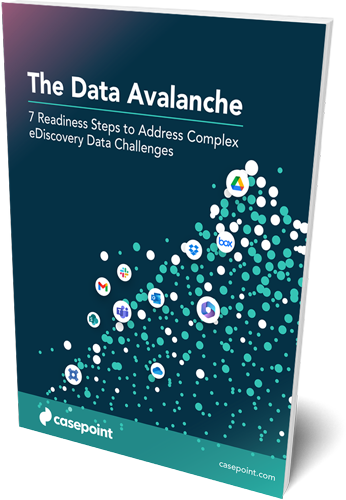 The Data Avalanche Whitepaper
Your Key Takeaways
---
How to achieve a state of readiness to conquer the oncoming avalanche of data.


Ways you can keep the pace with changing requirements and increasing data sources.


Steps you can take today to refine your data governance program and data management policies.

Casepoint Legal Hold
for Corporations
Casepoint's Legal Hold solution lowers
risk and cuts the cost and time corporate
litigators spend on the legal hold process.
Casepoint's Slack
Integration &
Partnership
Casepoint and Slack have teamed up
to streamline the data collection
process for legal discovery workflows.